Over the last couple of weeks I've been working on a project I designed using Sweater Wizard:
I have a bad habit of buying "someday" yarn.  That's yarn that I have no project for but it's so irresistible to me I have to have it.  Such was the case with this Misti Baby Alpaca Chunky yarn I bought at Stitches from the Heart.  This yarn is so soft I can hardly stand it!  I bought four skeins of natural, two skeins of sage, and two skeins of yellow, thinking surely I could come up with some project for it.
I'm really happy with the way it turned out.  My challenge was coming up with a color combo that would work with the amount of yarn I had in each color.  I still have about a quarter of a skein of the natural left, but otherwise it's all pretty much used up.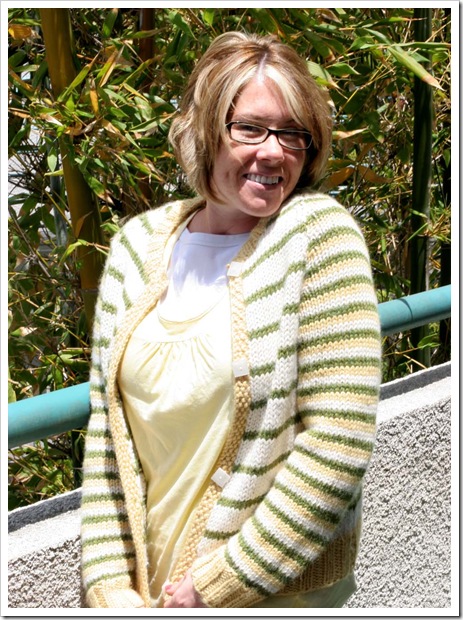 There are really no bells or whistles in this design.  It's just a basic cardigan with raglan sleeves, 2×2 ribbed edging, and seed stitched button bands.

If I could design it over again, I would make the sleeves longer and put more buttons on it.  Even though I show it buttoned here, there's too much space between each one to keep it closed properly, so they are kind of just decorative.
On to the next project!