I saw this posted on another blog recently: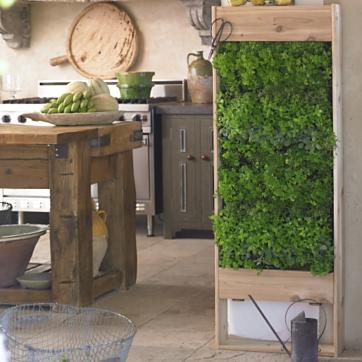 Photo:  Smith & Hawken
Like the author of the original post, I am intrigued, because there is one wall in particular on my balcony that is screaming for something like this.  But at $399, I am thinking I will have to try to come up with something myself because times are tough, ya know?
I looked at a couple of videos on YouTube demonstrating vertical gardens but I didn't find one that looked suitable (and to be honest, one of them was almost 10 minutes long and I just wasn't in the mood).
I will have to get back to you on this, because at the moment I don't have the time to research or think of any good ideas for making this.  However, I wanted to throw it out there (ideas, anyone?) and I'll re-visit the project when I have a chance.  I am positively itching to plant some herbs and this would be the perfect method for growing them I think.