Sigh.  I think I'm in love.
Last night my friend Heather told me about a blog called "Young House Love" and this morning I checked it out.  It is chock full of great decorating ideas, before/after pics, advice, and pretty much everything else pertaining to home decorating and renovation.  And I love the fact that this couple created a simple blog to record the progress of their own renovation and ended up turning it into a career (read the FAQs for details).  That makes me happy.
But the best part of all is the How-To section.
After reading How to Paint Your Kitchen Cabinets, I am almost convinced I can do it, and it's a project I really want to tackle in our Oregon house this summer.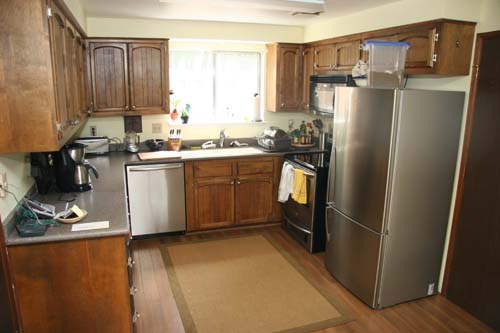 These cabinets will be white, I tell you!  White!
Not all projects are strictly DIY, such as Floor Refinishing 101, but since this is something we have to do in the Santa Monica house, I enjoyed reading and seeing their process and results.  It just makes the whole thing not seem like such a big deal, and the end result is so worth it!
Other ideas I loved:
Curtain Call (How to make your windows look huge)
We Got Carded (How to faux-tile a tray)
Watching Paint Dry (How to keep things cohesive with paint)
And oh!  There is so much more.  I guess here's where my productivity goes out the window as I spend the next three hours perusing Young House Love!