A long time ago, I used to go to a restaurant in Los Angeles that served a dish called Pasta Portofino (or something like that). It included pasta with shrimp, tomato, garlic, and basil. It was a favorite of mine, and eventually I came up with my own version of it.  The restaurant
is long since closed, but I still enjoy this recipe all the time.
This is a light pasta dish that really lets the flavors of shrimp, tomato, basil, and garlic shine.  I originally created the recipe without the zucchini, but one day I had one left over and I decided to add it.  When it's chopped so finely, it adds nutrition and texture without a heavy zucchini flavor.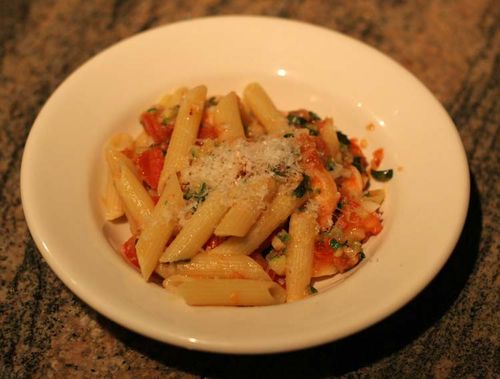 Cook Time: 25 mins.
Level:  Easy
Yield:  2
Ingredients:
1/2 tbs exra virgin olive oil
1/2 lb raw jumbo shrimp, peeled, tails off, and deveined
4 garlic cloves, minced finely
1/2 small zucchini, chopped in food processor or mini prep for a very fine consistency
Pinch red pepper flakes
1 tsp salt (plus salt for boiling pasta)
2 fresh tomatoes, chopped
4-6 leaves of fresh basil, chopped
1 cup penne pasta
Freshly grated parmesan to taste
In a large pot, put water to boil for pasta with a handful of salt.  When water boils, cook pasta until al dente, about 11 minutes.  Remove from heat and drain.
Mince and chop your garlic and zucchini and set aside.  Cut the tomatoes in half and gently squeeze out some of the juice and seeds into the sink, then chop.
In a large skillet, heat the oil on medium.  Do not let it get too hot before putting in your garlic and zucchini because the garlic could burn.  Sautee for 1-2 minutes.  Add the shrimp, red pepper flakes, and salt and sautee until the shrimps are pink and almost cooked through, 2-3 minutes.  Add the chopped tomatoes and finish cooking the shrimp 1-2 minutes.  Remove from heat and stir in the fresh basil.
Add the pasta to the skillet and mix thoroughly.  Serve in bowls or plates and top with fresh parmesan.
copyright Holly West 2009