A few months ago, my friend Julie gave me a pair of clip on earrings that had belonged to her grandmother.  They were unusual, but so tarnished it was hard to see what they were.  After cleaning them up a little, it appeared that they were some kind of Buddhas or genies–at any rate, a very interesting design.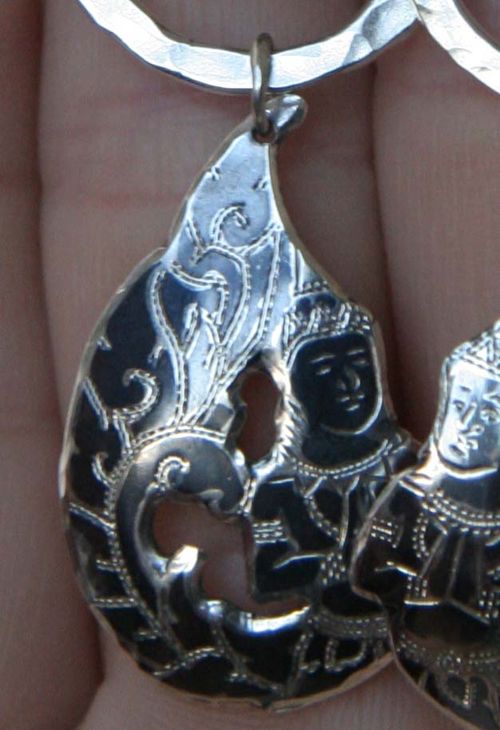 I held on to them for quite awhile but knowing Julie's birthday was coming up I thought they would make a great 40th birthday present.  I set to work trying to think of a good design for them.
After cutting off the clips from the back and asking my jewelry teacher to look at them, I realized that they had some kind of enamel on them that might not stand up to heat.  My original idea was to do some soldering on them, so this meant that I probably wouldn't want to do that.  Instead, I drilled holes at the top and attached jump rings that way.
I knew I wanted to add some gemstones and since the earrings themselves were already in a tear drop shape, I decided to let them hang at the bottom of the design.  I hammered circles and soldered jump rings to them.  Then I added golden tourmaline briolettes to echo the tear drop shape of the earring bottoms.
The end result is gorgeous, though I'm sorry to say that this photo does not do them justice.  They are very shiny and totally striking.  Best of all, they're one-of-a-kind and a great re-use of sentimental, but old-fashioned, jewelry.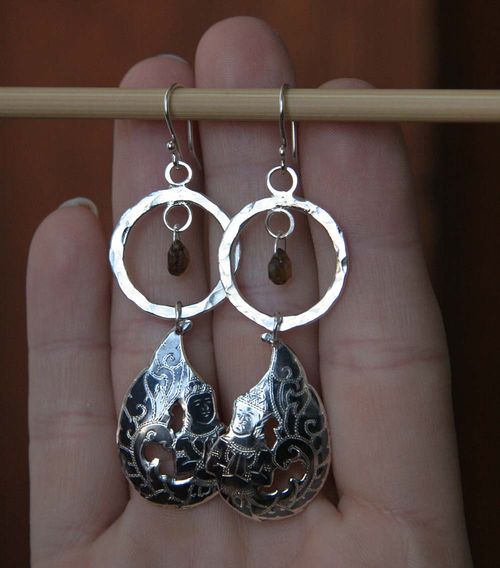 I love them!
Happy Birthday, Julie!