I love those days when I'm not feeling at all creative and I end up making something fantastic.  It was raining hard this morning, and all I wanted to do was curl up with a novel instead of going out to jewelry class.  I had canceled last week though and I really didn't want to do it two days in a row.  What's a lazy girl to do?
I did end up going and told myself I'd just look at my materials and work, it didn't matter what I made.  The first thing I saw when I opened up my tool box was a lovely London Blue Topaz that I've had for years.  Originally it was in another ring that I didn't like and months ago I took it out of the original setting.
This is the new ring: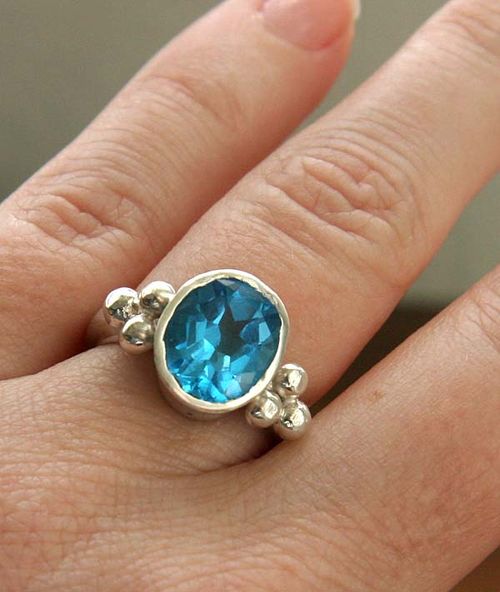 This ring actually matches a pendant I made a couple of months ago but haven't blogged about yet.  I didn't intentionally set out to do this design but I quickly realized that worked for the pendant would work for the ring.  Hence the addition of the three balls of silver on either side of the stone.
The metal, of course, is sterling silver and the ring is a size 6.  I haven't decided whether or not to list it in my Etsy store.  I'd kind of like to keep it for myself!
I guess this proves that sometimes it pays to do something even when you don't feel like it!