I've been home from Oregon less than a week and I'm feeling, well, less than motivated to do anything. I did plant some veggies in my balcony garden yesterday, but that's about it.

These are salad greens. I also planted a Celebrity tomato plant, a zucchini, and a Japanese eggplant. I have not had great luck in the past with growing vegetables of any kind, but I think I'll at least have some salad greens to harvest at some point.
I also have an Aerogarden and last week I planted some cherry tomatoes: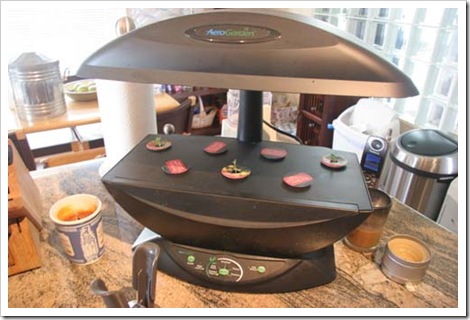 Yesterday I was excited to see that they had sprouted. I had some luck with growing herbs in the Aerogarden, but at the time I wasn't cooking enough and a lot of them got wasted. I'm hoping to get more use out of the cherry tomatoes.
On the knitting front, I've smack dab in the middle of knitting Coachella, which was featured in last summer's Knitty.

I've loved this design since I first saw it, but only recently got around to knitting it. It doesn't look particularly bra friendly, which is a must for me, but I'm willing to take a chance on it. Also, it looks like it would be flattering on a variety of figures, as long as the wearer was comfy with showing a little skin, no matter what her size.
I've gotten to the "optional bust shaping," which I'm including. I'm a little confused though, because it says to do the shaping two times for a D cup. It seems like that would create a weird double-darting, however, instead of one long dart on each side, which is how you normally see darts in clothing. I'm thinking I might tear out the short rows I've already done and modify the pattern to do just one dart on each side, only longer. I'm certain I am not making any sense here, but I know what I'm trying to say.
At any rate, this has been a fun pattern to work on, and I look forward to the finished garment.
Some Quick Links for your browsing pleasure:
Alkemie Jewelry
When I first looked at this jewelry I said "meh." But as I explored their work further I kind of started liking it, Octopus cuffs notwithstanding (go to the link and hit "next" about three times to see what I'm talking about).
Found Magazine
A friend of mine just sent me this link and it has some funny stuff on it. Reminds me a little bit of Post Secret, but much less intense.
Recycle a Tank Top to Make a Toddler's Onesie
Don't know why I love stuff like this, but I do. Reminds me once again that I need to learn to sew.
Summer '08 Knitty Patterns
I want to knit Gigi and Tank Girl.