What do you do when some kind soul brings you a home grown zucchini the size of a small child?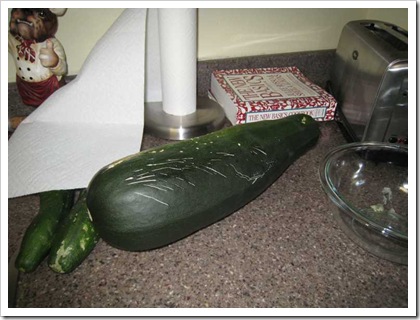 If you're anything like me, you thank them profusely and start thinking of things you can make with it.
Yesterday, John Maloni, the guy who was installing our heat pump, brought me a bag filled with a couple of huge zucchinis and cucumbers.  He told me his wife Debbie often prepared these by cutting them in half and mixing all sorts of ingredients with the zucchini meat and then stuffing the shell and baking it.  That sounded good to me.  I called her and got the basic 411 and then set out to create my own version of stuffed zucchini.
Italian Stuffed Courgette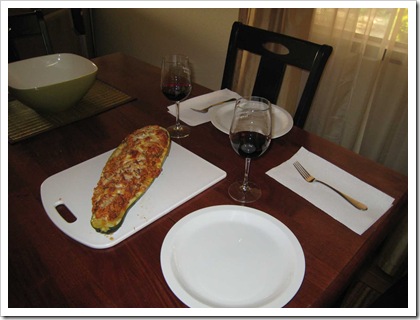 This is a wonderful low-carb alternative to lasagna. The recipe is great as written, but feel free to experiment with ingredients you like to come up with a unique dish.
NOTE: This recipe was prepared using a very large homegrown zucchini (see photos). Cooking times may vary if you use smaller ones. I will re-post this recipe with updated times when I try this recipe with smaller zucchinis, such as the ones you can buy at the supermarket.
Prep time: 25 minutes
Cook time: 45-60 minutes
1 large or two small zucchinis
1 lb ground turkey breast
2 cloves garlic, minced
1 cup mushrooms
1 cup marinara sauce
½ cup Italian-style bread crumbs, plus extra for topping
½ cup 2% shredded mozzarella cheese, plus extra for topping
¼ cup shredded Parmesan cheese, plus extra for topping
¼ cup olive oil, for drizzling
1 tsp parsley
1 tsp oregano
1 tsp basil
Garlic salt, to taste
Cayenne pepper, to taste
Salt and pepper, to taste
Preheat oven to 375 degrees.
In a large skillet on medium heat, add ground turkey, garlic salt, parsley, cayenne pepper, oregano, and basil and brown until well cooked. Drain excess water and grease.
Meanwhile, prepare your zucchini by cutting it in half length-wise. Using a melon baller or a spoon, scoop the seeds from the middle of both halves and dispose. Continue scooping the meat of the zucchini and put it in a small bowl. You will use the largest of the zucchini halves as your "boat" for stuffing, but scoop the meat from both halves (if you are using smaller zucchinis, use two halves for stuffing and scoop the meat from all four halves). Add the minced garlic and mushrooms to the zucchini and mix well.
Put the half that will be stuffed onto a non-stick baking pan. Drizzle olive oil on the sides and add salt and pepper. Put the the side.
When the turkey is cooked, add the zucchini mixture to the skillet and sauté until zucchini, mushrooms, and garlic are softened. Add the marinara sauce and mix well. Reduce heat to low and simmer until most of the liquid is gone.
Meanwhile, in a large bowl, mix bread crumbs, mozzarella, and Parmesan together. When turkey and zucchini mixture is ready, add to the bowl and mix well. Carefully spoon the mixture into your zucchini "boat" until well-filled—this should take all or most of the mixture. Top with additional breadcrumbs and drizzle with olive oil. Add a small sprinkling of mozzarella and Parmesan to the top.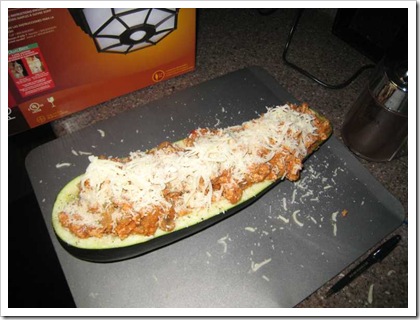 Cover the zucchini with aluminum foil and bake, covered, for 30-45 minutes (check the zucchini shell at 30 for tenderness). Remove cover and bake for an additional 15 minutes, or until cheese and breadcrumbs are golden brown.