Note: This post was originally published on February 16, 2009
I don't normally do much in the way of sketching when it comes to designing my jewelry.  And when I say "normally," I actually mean never.  This year, however, I have a very special project in mind and whilst looking for design ideas, I realized that some sketching was definitely in order.
What is this special project you ask?  It is a companion piece for the novel I'm writing.  I want to make a ring that is given to my main character, Isabel Wilde, by her brother, who is a goldsmith.
I have my hear set on using a ruby for this ring, set in 18k yellow gold and flanked with diamonds and possibly pearls.  In the sketch to the left, the center stone would be a faceted oval ruby and the four smaller circles would be pearls.  The little dots would be pave-set diamonds.
Such a piece will challenge my jewelry making skills but with the exception of the pave, it is all well within my abilities.  I will send it out to have the diamonds set, however.
I find the design to the right much less appealing.  It is more a case of just exploring shapes and sizes than it is a design I would use.  I don't remember if the smaller circles were diamonds or pearls in this design.
In this design I experimented with an emerald cut stone as well as a couple of pearr shaped stones on the sides.  I'm not sure what the side gemstones would be–although I have always been partial to the combination of red (ruby) and gold (citrine).  The small circles around the perimeter would be pave set diamonds.
Finally, I tried a pear-shaped ruby in the design.  The bottom circle would be a pearl and the smaller circles diamonds, as in the other designs.  I have not been a fan of pear-shaped stones until the last few years.  Now I really like them.
In anticipation of using this design or perhaps something similar, I bought a cheap ruby on eBay: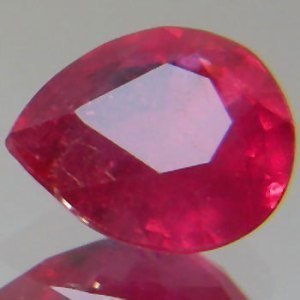 I do not know yet whether I'll use it since I need to see it in person.  If I can't find a ruby I can afford I'll use a red garnet.  For some reason I visualize this ring as having a red stone and a garnet will work almost as well as a ruby.