Warning:  This is a sad story.
It's been four months since my husband and I had to put our beloved 16 year-old dog Kramer to sleep.  I've wanted to write about it on my blog, but frankly, the subject is still too painful for me to think about deeply enough to write an adequate post.  I'm going to give it a try anyway.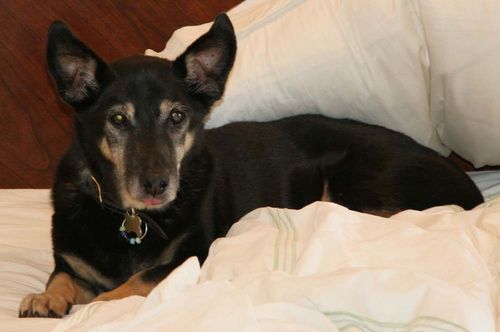 One of the first people we told was a neighbor, the morning after it happened.  Mick and I walked our dog Stuart together that morning and I was in tears.  The neighbor had been walking his own dog and we had talked about our pets and Kramer's declining health on numerous occasions.  I didn't feel I had a choice but to tell him, and I don't think I could've kept the news inside anyway.  I was, in fact, bursting with it.  I wanted the world to know that something of great significance had happened.  KRAMER DIED.
Our neighbor was sympathetic of course.  He said he was sorry, and then said "It's like losing a child."
This is a pretty standard statement of condolence when someone loses a pet, but I'm not sure anyone gives it much thought.  I know someone who has lost a child and it cuts you off at the knees.  Actually, you'd rather be cut off at the knees than suffer such a loss.  As painful as losing Kramer was, I was more or less a functioning human being a couple of days later.  I was devastated, and still am to some extent.  Losing a child doesn't just devastate, it decimates.
Not that I'm criticizing my neighbor.  At the time it probably felt like the right thing to say.  And I appreciated his sentiment, because I know it came from a sincere place.
But losing a pet is not like losing child.  It's like losing a pet.  And that's bad enough.
That was one of the lessons I learned the night we put Kramer to sleep.
Here's the second:  I will never again be tempted to judge pet owners who keep their pets alive beyond what others might think is a reasonable quality of life.  My husband and I struggled over this for six months or more.  Was Kramer happy?  Was he in pain?  Were we being selfish by keeping him with us?
He had mobility problems for at least the last year of his life and he eventually lost control of his bladder.  We turned baby diapers sideways and fastened them across his middle so he wouldn't leak all over the place.  We bought him a little red wagon so he didn't have to walk all the way down to the street to relieve himself.  If we ever contemplated how much easier life would be once Kramer was gone we felt so guilty.  That was what seemed selfish–not doing all of these things for him and just putting him to sleep.
Everyone kept saying, "You'll know when it's time."  I didn't believe them then and I kind of still don't.  Kramer was one of the three things in the world I loved most–how in the hell is it possible to know when it's time to kill something you love?
About a month before we put him to sleep, Kramer had a seizure.  I thought he was dying.  I rode with him in the back of our car to the vet and said goodbye to him.  I was certain he wouldn't be riding back home with us.  But when the vet evaluated him she was very calm and gave us our options for treatment–none of them included putting him to sleep.  We took him home and watched him closely for a few days, but he seemed the same as he was before–maybe even better.
On December 12, 2008, Mick and I were in bed reading, preparing to go to sleep.  I had gone to the bathroom, but Mick heard something.  He rushed into the living room to find Kramer having a violent seizure.  He called to me and I ran in and laid next to Kramer.  The seizure lasted for over five minutes and drained Kramer of every last drop of energy.  During those minutes, Mick and I tried to make him comfortable and we told each other that this might be it.
When he stopped seizing, we put Kramer in the car and took him to an emergency veterinary hospital that my husband had researched in advance in case something like this happened.  Like the previous ride to the vet, I sat in the back and told Kramer I loved him and that he had changed my life.  I laid down next to him and remembered the days when I was single and I'd wake up to find Kramer's head on the pillow next to mine.  I rubbed my face in his fur, knowing I'd want to remember how it felt.
The vet at the emergency hospital evaluated Kramer and told us what our options were.  She said something so generous:  "No choice that you make will be wrong."  I wanted to believe her so badly and I think I must have at some level.
Mick and I agreed that it was time to let Kramer go.
Kramer was a great dog.  I am so lucky to have found him that day in 1996 at Century City Mall.  He was four years old, fat, and adorable.  The adoption fee was $40, and at the time, it stretched my budget.  I was living in an apartment that didn't allow dogs, which didn't matter much because I couldn't afford one anyway.  But when the shelter volunteer told me Kramer was scheduled to be put down that night… I couldn't leave him there.
Every good thing I have in my life now is a result of the changes I made in order to take care of him properly.  I might have saved Kramer's life, but you know what?  He saved mine too.