On Friday I was going through my jewelry drawer and I found a felted bowl I made at Christmas which I put on my nightstand to hold my jewelry when I take it off at night (not sure why it was in the jewelry drawer instead of my nightstand, but I had a good reason for moving it at the time).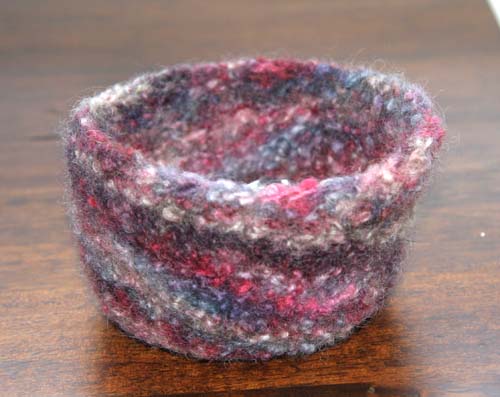 This bowl was made from variegated wool (Manos del Uruguay).  I liked the project so much I knit a larger one for a Christmas present for my grandparents.  I put candy in the bowl because they like to have a bowl of candy on their coffee table.
The pattern I used was from One Skein: 30 Quick Projects to Knit or Crochet
by Leigh Radford.  However, there are plenty of free patterns for felted bowls on the Internet:
Knitted Felted Bowl Pattern
40 Years Felted Bowl
Spring Colored Felted Bowl
Felted bowls are great stash-busters, and they're quick and easy.  In other words, the perfect project.
Knitting not your thing?  Don't worry, you can crochet felted bowls too.
Finally, if you don't have the time or desire to do it yourself, Papaververton Etsy makes and sells gorgeous felted bowls.