We're getting refinanced and today an appraiser's coming to give us the value of our home.  As a result, Mick and I worked to get the place all spiffied up.  It also inspired me to look at some of the photos we took during the home inspection when we first bought the place.
We bought our condo in May 2000.  We knew we wanted to buy something, but at the time we were only half-heartedly looking.  One day after a Sunday lunch on Main Street, we happened upon an open house in the neighborhood and that was the first time we saw what was to be our new home.  Mick still remembers me pulling on the front of his t-shirt in one of the hallways saying "Mick, we have to buy this house!"
And we did.
It has gone through many changes since we got it.  The most significant change (at least visually) is the kitchen.  This is what it looked like when we first bought the place: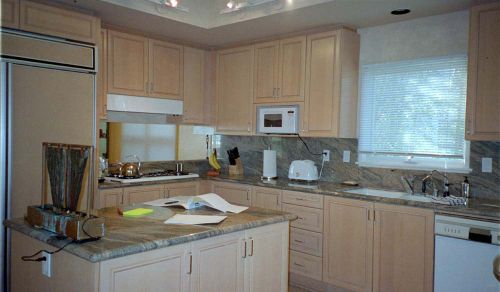 Nice enough, sure.  But the light wash on the cabinets just wasn't doing it for me.  This is how we change it: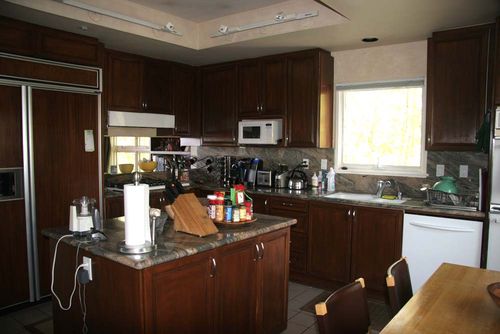 I'm a dark wood kinda gal and the dark wood cabinets are much more striking (despite the fact that this isn't the best picture in the world).
Another before:
And after:
The dining room before:
After: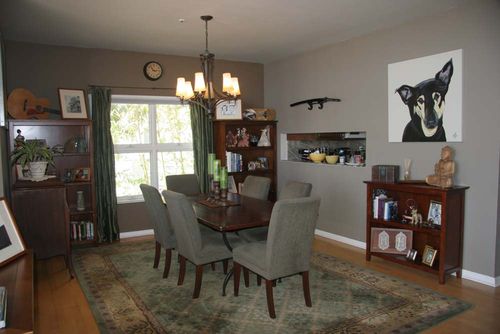 Aside from the fact that we put furniture in this area, the only thing we've really done is painted.  The yellow was actually very pretty, but too bright for me (even though we lived with it for a few years after we moved in).
Here is another before shot of the dining room: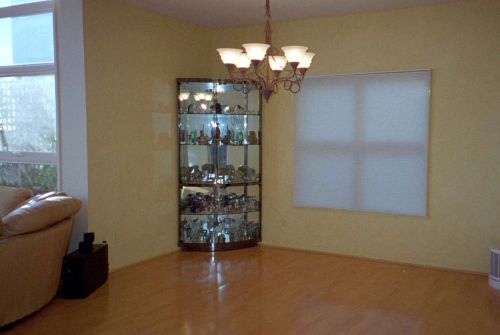 And after: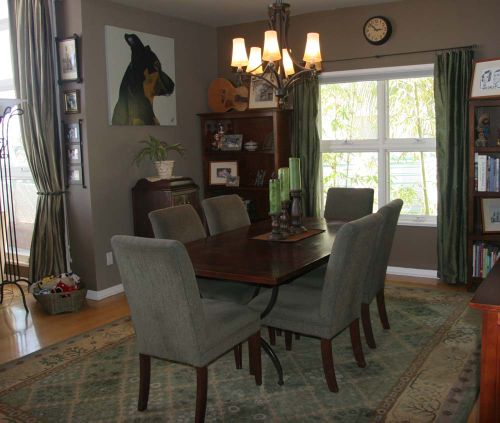 As you are probably beginning to guess, we are not minimalists when it comes to decor.  My husband would probably be if I wasn't around, but since I pretty much do all of the decorating, my taste is the one that's reflected the most.
Let's continue with the tour, shall we?
This was the living room, before: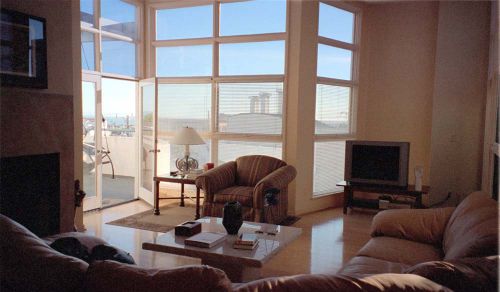 Same view, after:
Aside from changing the peach-colored paint (replacing it with a deep chocolate brown), the main thing we've added in this room is floor-to-ceiling silk drapes.  They offer a very dramatic change visual and also good light control.
I don't have any more before shots of the living room, so I'll leave you with some additional photos of the living room as it currently looks:
Tomorrow I'll finish the tour with the bedroom and master bathroom.