I think the title might be a little cheesy.  I don't know.  Does Venus have four suns?  Probably not.  There's only one sun, right?  But that's what came to mind when I tried to think of a name for this bracelet, so for now I'm gonna keep it.
Here it is, by the way: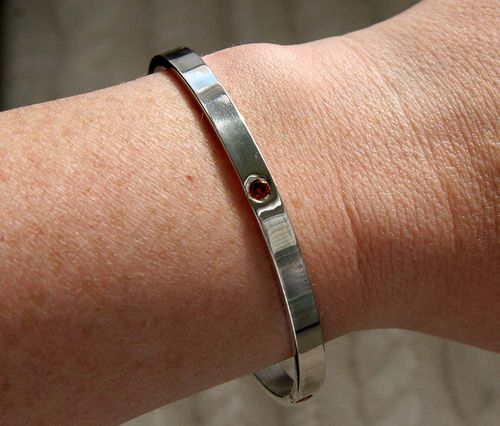 I am extremely pleased with the way this bracelet turned out.  I was looking in my tool box for pieces of silver and I found a bangle that I'd made a very long time ago but was having trouble soldering properly.  Today I looked at it with renewed determination and decided I would finish it.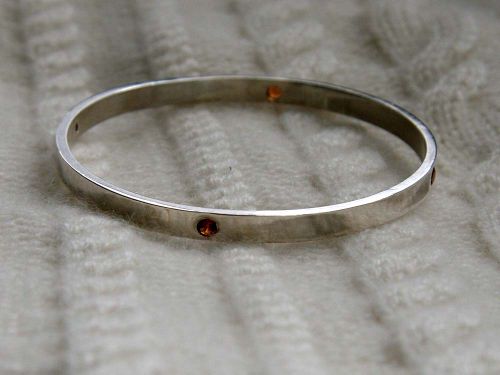 The bangle is made of sterling silver and set with four hessonite garnets that are a brilliant orange color.  Here's the thing with hammer setting:  it's quick and takes a minimal amount of effort.  But when it goes wrong–well, it really goes wrong.  By that time you've most likely limited your options with fixing the piece and you end up with a piece of metal with wonky holes in it.  You can find another stone that fits but invariably, I have no such stone on hand and the piece is doomed.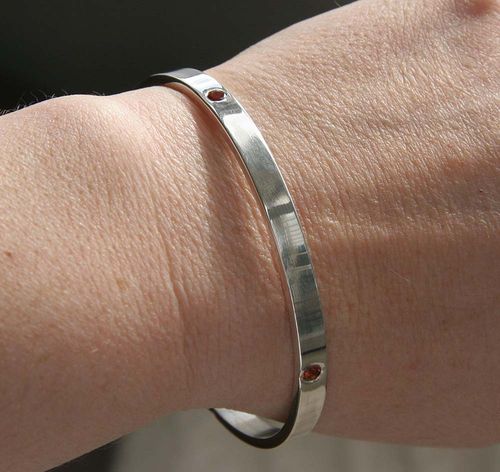 Since the hammer setting frightens me a little, I knew I'd really be pushing my luck with trying four in one bracelet.  I decided I'd start with the one and if that worked, well then maybe I could do a second one.  Then a third… I made it to four and unfortunately the first hole I drilled was a little off center, but we'll just say it adds to the handmade look and quality of the piece.
I am going to keep this bracelet since I have no bangles to speak of.  I'm also thinking of adding four more smaller stones of a different color in between the hessonite garnets.  But I'm absolutely sure Venus does not have eight suns, so maybe I won't.