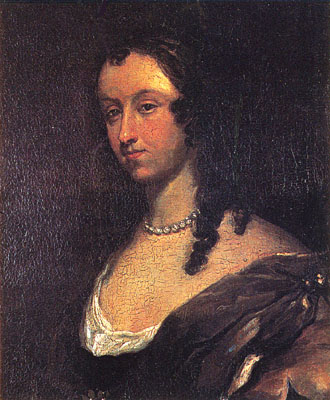 Isabel Wilde (10 July 1646 – 16 April 1689) was an English spy against the Dutch between the second and third Anglo-Dutch wars who became a famous soothsayer, fortune teller, and voodoo practitioner who had many prominent clients within the court of King Charles II.
Early Life
Isabel Wilde was born in Wye, near Canturbury, England.  She was the middle child of Bartholomew Wilde, a barber, and his wife, Elizabeth.  She had an older brother, Adam (1644-1665) and younger brother, Lucien (1648-1685).
Though the Wildes were not of noble birth, Bartholomew had a good reputation in the village and his wife was employed as a wet nurse for the prominant Colepeper family.   Isabel spent much of her childhood with Thomas Colepeper and his siblings and it was a relationship that carried on into adulthood.
When she was 17, Isabel's father Bartholomew was appointed Lt. Governor of the colony of Surinam in South America.  Whilst in Surinam, her family lived on a large plantation called St. John's Hill, where Isabel befriended an African slave named Kwasi who worked on the plantation.  Kwasi was a voodoo priest and he and the other slaves taught Isabel the rituals of African religion, knowledge that she took with her when she returned to England in 1664.  Her father died at sea on the voyage back.
Shortly after she returned from Surinam, she married.  Very little is known about this marriage, but her husband died 1665, possibly from the plague.
Spying for the Crown
Some time after the death of her husband, Isabel was introduced to the court (possibly through her brother Lucien, who was becoming a popular playwright).  She became the mistress of King Charles II but it was a short lived affair because Barbara Palmer strenuously objected.  Knowing her loyalty to the crown, advisors to the King (principally Baron Arlington) enlisted her to spy on a known English double agent working for the Dutch who was living in Antwerp.
Upon arriving back in London in 1667, Isabel was heavy in debt and despite a year of petitioning the King for payment, she was never paid for her work as a spy.  She went to debtor's prison at Newgate but was released shortly after when an unknown benefactor paid her debt.
Wise Woman
Determined to avoid going to prison again, Isabel called upon her experiences with African religion in Surinam and set herself up as a wise woman in London under the alias of "Madame Culebra."  During this time, she led a double life as Isabel Wilde, a wealthy widow and sister of the famous playwright Lucien Wilde, and Madam Culebra, a popular fortune teller who worked magic at the behest of some of the most prominent citizens in London.  She operated in extreme secrecy and her dual identity was only discovered after her death in 1689.
Her work as Madame Culebra led her to become involved in some of the most dangerous events of the time, most notably the mysterious death of Sir Edmund Berry Godfrey in 1678.
Become a fan of Isabel Wilde on Facebook!
Author's Note:  The painting in this post is actually of Aphra Behn, upon whom the character of Isabel Wilde is loosely based.