I made this in my jewelry studio yesterday: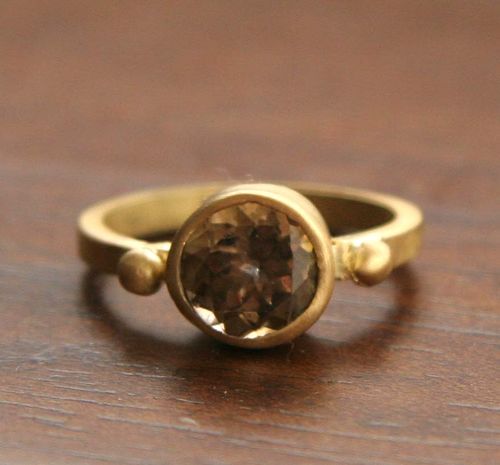 It is 18k gold and tourmaline.  I'd bought the stone quite awhile (two of them) intending to make a pair of stud earrings.  Unfortunately, both stones got nicked somehow (this is a problem I've had with tourmaline as it is kind of soft), which means I really can't sell anything I make with them.
Still, the stones are beautiful and I chose the least damaged one to make this ring.  The bezel setting hides the flaw well.
My original design for this ring was to have two small hammer set diamonds where the gold balls are.  Alas, the hammer setting is one of those that I get wrong almost as often as I get it right and the band was too narrow for me to do it correctly.  A better goldsmith could've done it, I'm sure.
I ended up reverting to my signature style, which is a bezel set ring with a substantial sized stone and two metal balls on each side.  I gave it a satin finish to make it a bit more unique compared to my usual shiny finish.
Overall, I am very pleased with this ring.  It felt great to use some 18k gold again since I've been working with so much silver lately.  The price of gold has gone down slightly, so perhaps there is more in my future?