I'm kind of in a weird place right now.  I've been having trouble with motivation which is a little odd for me and I'm not sure what the problem is.  While I'm not exactly unhappy, I'm not particularly happy either and this lack of motivation is contributing to this.
That said, there are a few things in my life right now that are making me very happy, and I thought rather than focusing on the negative, why not highlight the good stuff?
1)  My garden
I have never really had luck with growing vegetables or herbs, but I have high hopes for the things I planted a couple of weeks ago.  Everything is growing quite nicely, flowering where appropriate and in general preparing to bear me some lovely gifts.
This is the zucchini plant, which has several "boy flowers:"
I harvested the flower in the photo and I'm going to save it so I can use it in cooking when there are more.  My housekeeper, who seems to know everything about plants, told me I should make a quesadilla with them and I think I will.
The salad greens are growing with great speed.  To remind you, here is a photo of them when I first planted them: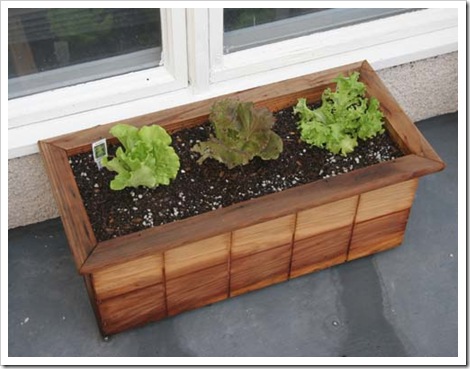 And here they are today: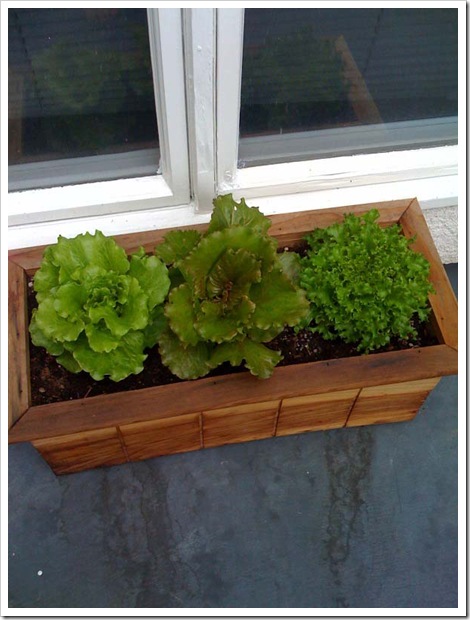 Finally, a very long time ago, I blogged about my nectarine tree and my hope that someday I'd actually get a piece of fruit from it.  Well friends, the time has come:
Yes, that is indeed a nectarine you see growing on the tree.  I couldn't be more proud of my little tree.  It's first fruit!
2)  Speaking Spanish
My friend Teresa's mother is from Spain and now and then, Teresa has relatives that come to visit.  For the last couple of weeks, her cousins from Madrid have been visiting and I am having a lot of fun with them.  They speak mostly Spanish and I of course speak mostly English, but talking to them has been a great opportunity to practice my Spanish (and for them to practice English).  I've long had a goal of becoming fluent–which wouldn't be all that difficult here in Southern California–but I tend to revert back to speaking English because it's so much easier.  But if you're talking to someone who doesn't speak English, your only choice is to speak Spanish.
My husband Mick is getting into it.  The other day, he found a cool website presented by the BBC called Mi Vida Loca.  It's an interactive video "mystery" that helps you learn beginning Spanish.
3)  Knitting
Despite my recent lament, I really am enjoying knitting right now.  I'm trying to get Christmas presents done early this year and it's been fun planning and working on projects.
4)  My leg muscles
I know it's an odd thing to include here, but over the course of the summer I've gained almost 10 pounds and I'm not happy about it.  Still, I've been working out fairly regularly and I've been really pleased with the shape of my legs and it's a direct result of running and working out.  The weight gain is all about food intake–I've been eating like there's no tomorrow, and even if I'm working out regularly I'm not burning off all the calories I consume.  So losing the summer weight is my current challenge, but in the mean time I am enjoying feeling good about my strength, which is most obviously seen in my legs.
I've recently added a couple of new workouts to my week and I'm excited about it going forward.  One is hill-walking.  The area around my house is very hilly and walking up and down them is a great workout.  The second workout I've added is jump rope intervals.  Wow, jumping rope is hard.  I can only do it in 30 second spurts but it feels really good and it's a little more interesting than running (kind of reminds me of my childhood recesses).
5)  Fall is coming
It's my favorite time of year, and it's right around the corner.  2008 is rushing by!